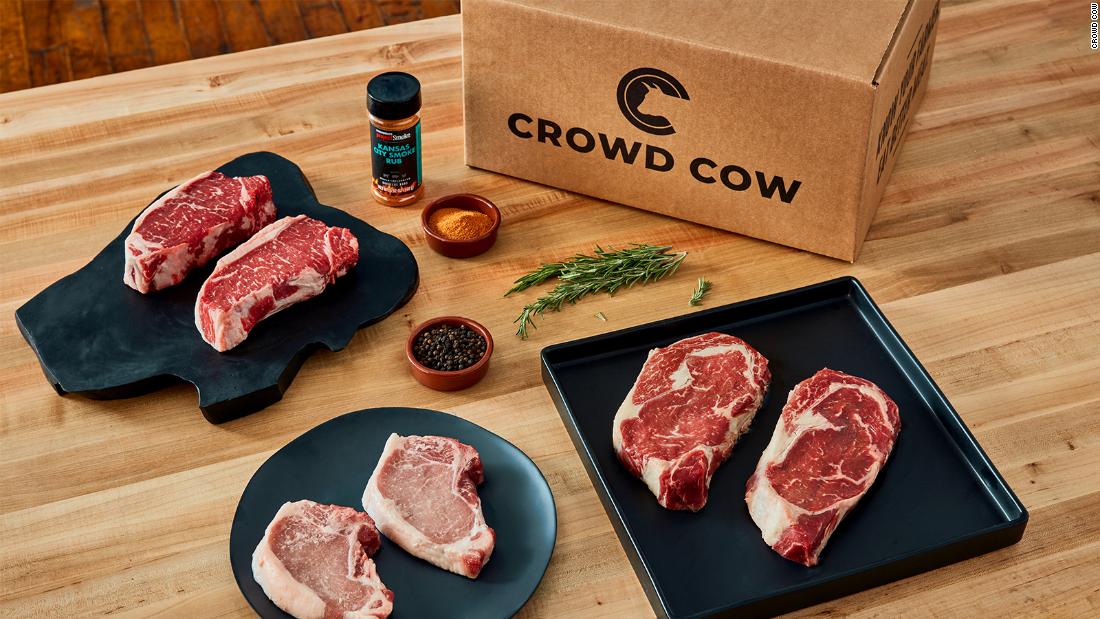 (CNN) —
It's hard to name a more iconic pairing than dads and grilled meats. What would summer be without the ol' paterfamilias in flip-flops before a roaring grill, burgers or steaks sizzling before him, his tongs clacking, the briquettes combusting, the smoke and meat wafting their gorgeous smell all across the neighborhood?
But as any self-respecting dad will tell you, not all meats are created equal. In fact, in an age when every imaginable food from every imaginable corner of the world can be mailed to your doorstep, we're all taking a closer look at what we consume. Factors like freshness, quality and sustainability matter more than ever.
So what if you could get a subscription box with the highest-quality food, sourced from independent, highly sustainable sources across the world — all in time for Father's Day?
Meet Crowd Cow, a direct-to-consumer marketplace that does just that, offering incredible meat and seafood from some of the most ecologically minded farms, ranches and fisherpersons out there. For the dad who's all about good food and delicious meats, Crowd Cow is a godsend.
Here's how it works: First, build your box by selecting your favorite cuts (or, considering it's Father's Day soon, Dad's favorites). Next, choose when you want your box to arrive. Each box is fully customizable — so adjust, reschedule or skip your monthly box, it's up to you! Finally, become a member to save 5% and enjoy free shipping on every box over $99, not to mention exclusive access to new products and more.
Fans love the service (check out the 4.9-star review average on Google for four-plus years running), and it's hard not to see why.
By practicing radical food transparency, Crowd Cow makes it easy to see exactly where your food is coming from. A helpful link details the exact farmer and farm behind every item you put in your box. In fact, the company only works with farms they know personally, ensuring their customers get the highest-quality, most delicious and most sustainable food possible.
After all, we'd like to think if Dad knows where and how his meat was raised, he'll be able to make better decisions for himself, his family and his health. Plus, and maybe most importantly, the careful farming practices employed by Crowd Cow's partners aren't just good for the planet — they're good for the palette. To say this food tastes delicious is an understatement.
That same attention to care and quality extends even to Crowd Cow's packaging. Orders are 100% carbon neutral and arrive in 100% recyclable and compostable packaging. Dad might be tickled to know (we know we are) that he can throw the packaging foam in his garden, use it as a fire starter or simply dissolve it in water and watch his waste literally disappear.
CNN readers get an exclusive $25 off their first order when they use code CNN25 at checkout.
Need some inspiration to get shopping? Here are some Father's Day faves we have our eye on. You're welcome, Dad!
The Ultimate Ground Meat Flight
What dad doesn't love the idea of a flight? Some of the best things in the world come in flights, after all — cough whiskey and beer cough — and this generous ground meat sampler is a fine addition to a winning tradition. With 4 pounds of goodness and three different kinds of meat (beef, bison and lamb), Dad's next burgers and meatballs will pack an extra-flavorful punch. Plus, we can't wait to debate the flavor nuances of grass-finished to grain-finished beef over a couple brewskis with the old man.
Give Dad more reasons to fire up the grill this summer with this one-stop shop for all his steak, burger and hot dog needs. We're talking nearly 6 pounds of the highest-quality meats from independent farms, delivered to his door. If that doesn't put a smile on his face, we don't know what will.
For the dad with a performative flair looking to channel his inner Salt Bae, nothing beats a frenched rack of lamb. It's elegance itself, especially when carved tableside or sliced into lamb lollipops (OK, rib chops, fine). Sourced from a multigenerational family farm where flocks enjoy access to open space, high-quality feed, clean water and fresh air, Dad can expect meat that's well marbled, tender and rich in flavor.
Fair Trade Wild Mexican Blue Shrimp Combo Box
For the surf and turf type of dad, Crowd Cow offers plenty of seafood options, including this wild blue Mexican shrimp with a sweet and crisp flavor sourced from the first and only Fair Trade Certified wild shrimp company. Expect 21 to 25 jumbo shrimp and four shrimp burgers in this combo box — and plenty of fresh seafood flavor.
Japanese A5 Wagyu Petite Striploin Steak
Japanese Wagyu is the king of meats, and Crowd Cow is the No. 1 online retailer for this ultra-premium dad-pleaser of a steak. Known for its snowflake-like marbling and melt-in-your-mouth tenderness, Wagyu is about as special a steak as money can buy. For the dad who doubles as a meat connoisseur, this affordable entry into the world of Wagyu will make it a Father's Day to remember.