(CNN) —
It may be all about the eyes these days, as the lower half of your face is likely to be covered by a mask during most of your time spent outdoors, but we're here to confirm that a good matte lipstick is still a classic essential to have in your beauty arsenal.
There's the argument, of course, that if you're wearing lipstick, it's even more important than ever to find one that stays put and doesn't transfer onto your mask — or come off easily after dining al fresco. A quality lipstick is also a way to accessorize your work-from-home look and restore a bit of normalcy into what has been, to put it mildly, a very strange year. Plus? Lipstick is simply fun to wear, even if you're just swiping it on for a pick-me-up (or your IG stories).
In an oversaturated market, it can be tough to figure out which matte lipsticks are the right ones for you and which products actually live up to their wear-all-day claims, not to mention finding shades you love. Also factor in that some brands tend to change their formulas every so often, so what was once a less-than-stellar choice may have vastly improved since you last tried it.
To find the best, our makeup-obsessed editors put 16 top-rated picks to the test — a pool we settled on after doing comprehensive research — and, honestly, found many of them to have their merits. For the full list of (all quite different!) matte lipsticks we tested and what we loved and didn't love about each, scroll down. Ultimately, we settled on five standouts that are worth every penny.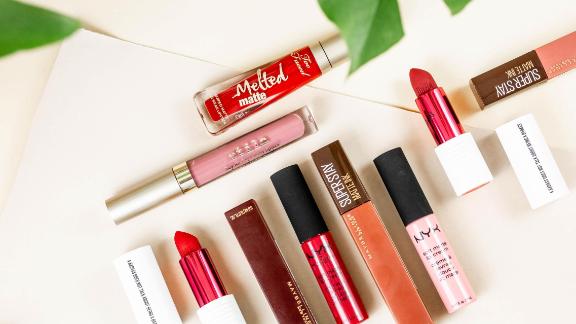 The Stila Stay All Day Liquid Lipstick ($22) has thousands of 5-star ratings across the internet, and it's easy to see why. True to its name, this product clings to your lips for hours upon hours, burritos and messy breakfast sandwiches be damned. It's also surprisingly moisturizing for such a superior stay-put formula, a combo that's rare to come by.
Too Faced Melted Matte Liquified Long Wear Matte Lipstick ($22) lost top honors by only two points (it just didn't have quite the same staying power as our top overall). It's a highly pigmented formula that does a great job at staying put, plus it also uses a substance called Volulip (more on that below) for a subtle plumping and smoothing effect.
Uoma Beauty Badass Icon Matte Lipstick ($24) is basically butter in a tube (but in the least gross way possible), gliding on effortlessly. It's impossibly moisturizing and has a beautiful bold pigment, and its staying power is impressive for such a hydrating formula.
Maybelline SuperStay Matte Ink Liquid Lipstick ($7.89) is a drugstore-brand lipstick that you'd never guess was budget-priced based on how incredibly well it stays put all day long. It's also available in 35 colors, including some funky shades like blue and black.
NYX Soft Matte Lip Cream ($6.50) gave a lot of the beauty-store and luxury-brand products in our testing pool a run for their money. While not as long-lasting as Maybelline, this matte lipstick offers more in the moisturizing department, which might be a draw for those prone to dry lips who don't want to break the bank.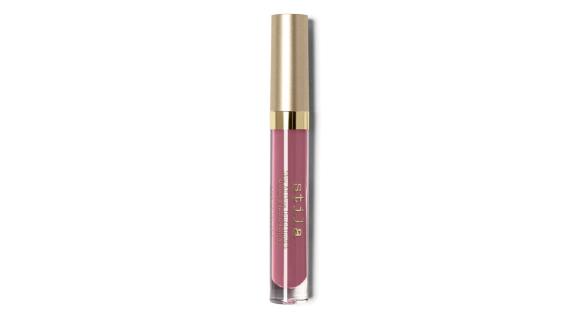 The staying power of Stila Stay All Day Liquid Lipstick, as far as we're concerned, can be attributed only to pure sorcery. Earning the highest marks in this category out of all 16 lipsticks in our testing pool, this stuff held up to messy breakfast sandwiches and drinks galore, having barely budged many hours after it was applied. If you're looking for a mask-friendly matte lipstick that won't transfer onto its fabric, there is no better choice, in our opinion, than Stila.
With all long-wear lipsticks, historically we've come to expect sacrificing ultra-hydrated lips for the ability to stay put all day long. The moisture level of Stila Stay All Day Liquid Lipstick, however, impressed us given its superior staying power. While top marks for a moisturizing lipstick went to Uoma Beauty Badass Icon Matte Lipstick, Stila's formula is still remarkably moisturizing, putting vitamin E and avocado oil to work keeping your lips soft and flake-free.
It glides on like a gloss, shiny and wet, but quickly dries to a lightweight matte finish that you'll barely notice is on your lips once it has. The product is highly pigmented — you'll likely need to swipe one layer on — and we didn't find it to feather or bleed whatsoever. It's available in 19 varied shades, from nude beige to deep plum to bold red. The line also includes two hues in a "sheer" formula, for softer coverage, and a "shimmer" formula available in five colors, to add a little sparkle to your look; both promise up to 12 hours of wear, though for the purpose of our tests we tried only the matte formula.
All Stila products are cruelty-free — as they should be in 2020; all other beauty companies still testing on animals, please take note! — but the Stay All Day Liquid Lipstick is not vegan, as all shades contain carmine and beeswax. (That said, if a vegan ingredients list is a must for you, we'd recommend Fenty Stunna Lip Paint as a comparable long-wear matte lipstick.)
Perhaps nothing in this world is perfect, but when it comes to matte lipsticks, Stila Stay All Day Liquid Lipstick comes awfully close, especially if you're looking for a lightweight, nondrying, highly pigmented formula that'll withstand long days of wear without any evidence that you've eaten a greasy grilled cheese sandwich for lunch or worn a mask for several hours.
Too Faced Melted Matte Liquified Long Wear Matte Lipstick ($22; hsn.com and sephora.com)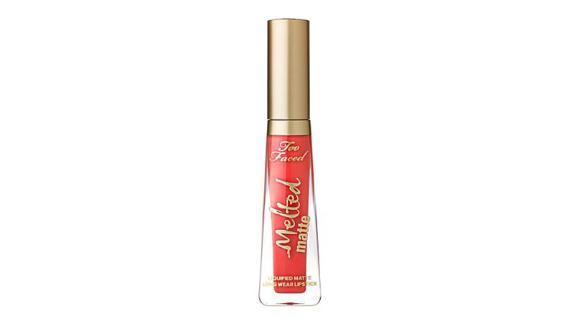 Coming in just a hair beneath our overall pick, Too Faced Melted Matte Liquified Long Wear Lipstick is another long-lasting formula that surprised us with how moisturizing it proved to be throughout the day. Like the Stila Stay All Day Liquid Lipstick, Too Faced's product also includes vitamin E and avocado oil to help soften lips but has the added bonus of subtle plumping properties, thanks to Volulip (a plant extract and peptide-derived substance that works to volumize lips without a stinging effect).
Too Faced's lipstick earned only slightly lower marks for staying power; while it stood up to meals and drinks quite well, we found that it did transfer a tad onto our masks, though we were still impressed by its ability to keep its pigmentation throughout the day without flaking or drying. We found it to smudge only minimally after hours of wear. The liquid formula is a bit more matte in its application from the get-go (versus, for instance, Stila's more glossy initial application), and its angled applicator meant swiping it on precisely, without glooping, was no issue; it does have a bit of a sticky feel upon application that fades quickly, however.
What's more, Too Faced Melted Matte Liquified Long Wear Lipstick is available in 29 shades — from subdued pinks and light browns to oranges, fuschias, a purply black and even green — to suit whatever look you're going for. The brand is entirely cruelty-free, though beeswax in this lipstick's formula means it's not considered a vegan product.
Too Faced Melted Matte Liquified Long Wear Lipstick is a high-pigmented, long-lasting formula that won't dry out your pucker, and it's an especially good choice if you're someone looking for a product that will subtly plump your lips.
Uoma Beauty Badass Icon Matte Lipstick ($24; ulta.com)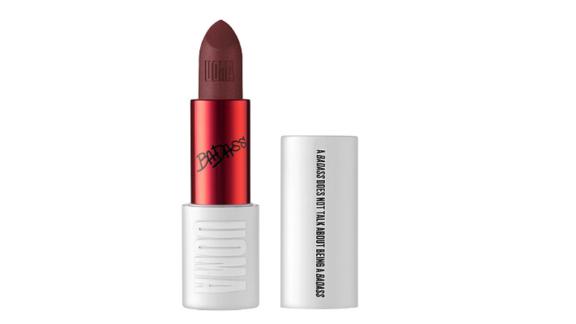 One of the few lipsticks in our testing pool that solicited literal oohs and aahs from our testers, Uoma Beauty Badass Icon Matte Lipstick glides on like butter, and you'll need only one swipe on your lips to sufficiently coat them with color.
Earning the highest marks for moisture level, Uoma's formula is infused with mango butter, aka a blessing for dry, damaged lips. After weeks of wearing matte lipsticks, finishing off our testing pool by trying the Uoma lipstick felt like an early holiday gift for our lips.
The trade-off for all that hydration is staying power that isn't quite comparable to our long-lasting winner and runner-up — but it does do a pretty darn good job of that too. After a breakfast of yogurt, granola and coffee, for instance, the hue persisted, but it didn't look just-applied in the way that Stila's lipstick did. It also transferred a bit onto our masks, but for such a pigmented, creamy, hydrating formula, we didn't consider it a deal breaker. As one tester attested, "I ate pasta, ran an errand — while wearing my mask — and to my shock the color was still on my lips and still maintained its full coverage." There you have it, folks.
Uoma Beauty Badass Icon Matte Lipstick is available in 16 shades that run the gamut from pinks and browns to coral and purple hues. Fun bonus: All colors are named after iconic Black women (Uoma is also a Black-owned brand), like Chaka, Whitney, Coretta and Funmilayo. Uoma's products are cruelty-free, though this lipstick is not a vegan formula.
This smooth, lightweight, hydrating lipstick is a no-brainer for makeup lovers — especially those with dry lips who want a product that'll keep 'em moisturized even as the weather turns chilly and windy — and we think it's well worth its $24 price tag.
Maybelline SuperStay Matte Ink Liquid Lipstick ($7.89; amazon.com or $7.98; walmart.com)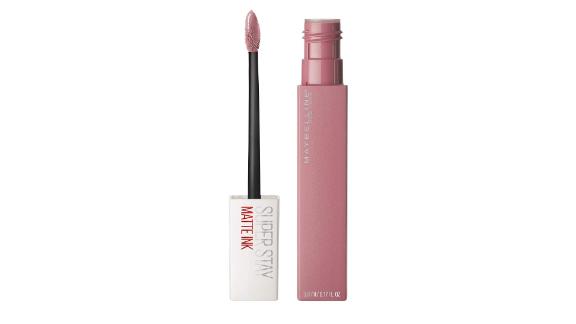 Simply put, Maybelline's SuperStay Matte Ink Liquid Lipstick is a drugstore product, but you'd never know it.
This is a seriously impressive stay-put lipstick for such a paltry price tag. While it's not necessarily a notably drying formula, it wasn't among the most moisturizing we tested either, and it has a bit of a sticky feel upon application that persists. That said, we didn't find it to be a deal breaker: The tradeoff for pigmented color that lasts through breakfast, lunch, coffees and glasses upon glasses of water throughout our workday was worth it. We also experienced little to no transfer onto our masks with this product.
Like the Stila Stay All Day, Maybelline's liquid lipstick applies glossy, then quickly dries to a matte finish. Our only gripe with the application is that it can come out of the tube a bit gloopy, so you have to rub the applicator on the sides of the tube to remove any excess product.
Rounding out the laundry list of what we appreciate about this product: It's available in 35 shades, including funky hues like blue, black and a purple-based gray, along with your standard reds, pinks, browns, beiges and then some. (As a bonus, the lipstick also has a delightful, dessert-like scent, reminiscent of chocolate or caramel.)
Unfortunately, Maybelline is not a cruelty-free brand, since it sells its products in China, where animal testing is mandatory for foreign cosmetics. If supporting a 100% cruelty-free brand is important to you, you'll find a comparable formula in our budget runner-up, NYX Soft Matte Lip Cream, or the Milani Amore Lip Creme. That caveat aside, you'll be hard-pressed to find a longer-lasting drugstore matte lipstick than this one.
NYX Soft Matte Lip Cream ($6.50; amazon.com or $6.99; target.com)

If you're looking for a more moisturizing wallet-friendly matte lipstick (or you prefer to stick to only cruelty-free products) and you're willing to sacrifice staying power, NYX Soft Matte Lip Cream is a solid choice.
For starters, we found its applicator tip, which was smaller than many of those for the liquid lipsticks in our pool, to be the holy grail of applicators. It doesn't hold on to excess product, meaning you can get a precise application even without a lip liner. Plus, it's not super-drying like some stay-put formulas can be.
With a price tag not much more than a venti pumpkin spice latte, we found the NYX Soft Matte Lip Cream to hold up well relatively throughout the day (to, among other things, said lattes), though not nearly to the extent of Maybelline's SuperStay lipstick. For continued full coverage, you'll have to reapply this lipstick after a meal and perhaps after wearing a mask for a while, but (pro tip!) if you spray your lips with setting spray after applying the product, it'll help keep the color intact longer.
Less staying power came with the trade-off, however, of a more hydrating formula than Maybelline's SuperStay. If you're someone prone to dry, chapped lips, you might find this NYX lipstick to be more up your alley.
We also loved that the lipstick is available in a whopping 36 shades. NYX is a cruelty-free brand, and though Matte Lip Cream is not vegan, its Metallic Lip Cream formula is.
How we tested

We pored through the internet and drew from our editors' firsthand experience to find the top matte lipsticks on the market, ranging from drugstore options to higher-end products, to include in our testing pool. Three testers all tested shades that they preferred, to eliminate any bias toward a lip product that may have been high-quality but not a hue that was fitting for them or their skin tone. We considered staying power, high pigmentation, a moisturizing formula and smooth and precise application to be the primary measures of a good matte lipstick.
We gave the most weight to staying power, noting how well they stood up to messy meals and to what extent they transferred onto our masks. We made note of whether they feathered or flaked after hours of wear, or if they downright smeared when we took our masks off. After all, what good is a lipstick if it comes right off? We also weighted pigmentation heavily, followed by moisture level and ease of precise application, with the latter two weighted equally. We took value into consideration, meaning we tested only three "luxury" beauty brands and gave more points to lipsticks that delivered more product per dollar.
To determine the most accurate overall scores, we broke the testing into the following categories and subcategories:
Staying power
Resistance to food and drinks: We observed to what extent the pigment remained on our lips after drinking beverages and eating meals. We also took note of how easy or difficult it is to remove the product at the end of the day.
Transfer resistance: We observed whether it transfers easily to face masks.
Pigmentation
We noted how saturated the pigmentation was and if it required multiple coats for full-coverage color on our lips.
Ease of application
Smoothness: We noted whether it applied to our lips in a smooth manner or if it dragged and/or felt sticky.
Precision: We observed how precisely we could fill our lips with the product without wearing a lip liner, and if the color bled after application.
Moisture level
We noted whether the lipstick made our lips feel dry or hydrated.
Color availability
We noted how many shades the lipstick is available in.
Value
Cost per ounce: We did the math to determine the ratio of the volume of the product to its price.
Cruelty-free/vegan
We looked into whether the brand tests on animals and if the product has vegan ingredients.
How we rated

We determined a maximum number of points each product could get for every category and subcategory test listed above, including a higher number of overall points for the features we identified as being most important to the experience of using a matte lipstick.
Staying power had a maximum of 30 points.
Pigmentation had a maximum of 20 points.
Ease of application had a maximum of 15 points.
Moisture level had a maximum of 15 points.
Range of colors had a maximum of 10 points: We assigned each product a point value relative to how many shades are available and the breadth of their color range.
Value had a maximum of 5 points: We assigned each product a point value relative to its price per ounce.
Cruelty-free/vegan had a maximum of 4 points: Both cruelty-free and vegan (4 points); either cruelty-free or vegan, but not both (2 points); brand is cruelty-free but parent company is not (1 point); neither cruelty-free nor vegan (0 points).
Other lipsticks we tested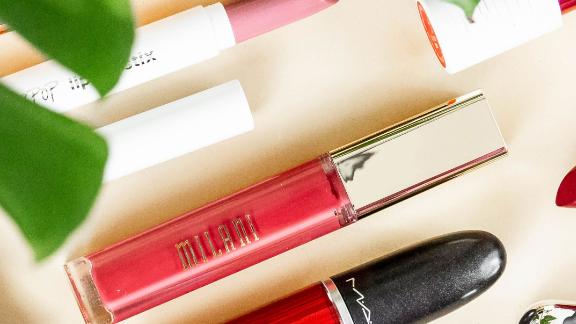 Milani Amore Matte Lip Creme (starting at $6.33; amazon.com, $9.67; walmart.com or $7.99; target.com)
Another drugstore product that impressed us with its staying power, the Milani Amore Matte Lip Creme came in just a smidgen behind the NYX Soft Matte Lip Cream in overall points. (In fact, one of our staffers swears by it as a staple in her beauty product collection.) It stood up fairly well to breakfast and coffee, and then a messy grilled cheese for lunch, and it barely transferred onto our masks. Where it lost points, however, was in the moisture department. The liquid lipstick, which can come out a little gloopy, felt dry at first, but once it dries to a matte finish it's quite lightweight and barely noticeable. If you're prone to chapped lips, you'll want to wear this layered over a lip balm, especially for all-day wear. Note that if you do add lip balm, the product will go from a matte finish to a glossy one (and still look flawless).
L'Oréal Paris Infallible Pro-Matte Liquid Lipstick (starting at $6.69; amazon.com or $7.97; walmart.com)
This lipstick has superior staying power — one of our testers had to pretty much scrub her lips with makeup remover to fully get it off — but it lost points in several other categories. The liquid lipstick has a sticky feel that persists throughout the day, and it ranked somewhere in the middle in terms of moisture level. While not incredibly drying, it isn't what we'd describe as hydrating, and can get a bit clumpy and flaky after a few hours of wear. (One of our testers found that wearing a primer under this product, however, drastically improved that issue and made the application much smoother.)
Colourpop Lippie Stix ($5.25, originally $7; colourpop.com or $7; ulta.com)
A moisturizing matte lipstick, we loved the pigmentation of Colourpop Lippie Stix, though we found its staying power to be average. (One of our testers noted that after she removed her mask upon reaching her destination, the pigment remained bold, but the lipstick had smeared.) Housed in a narrow twist-up tube, this lipstick goes on smooth and is rather easy to apply precisely — it's perfect for getting a great Cupid's bow. It was a little drying after a bit, but at just $7 a pop, we still think it's an option worth adding to your collection if you find a shade you love (it's available in 16 of 'em), and if you prefer a solid matte lipstick formula to a liquid one.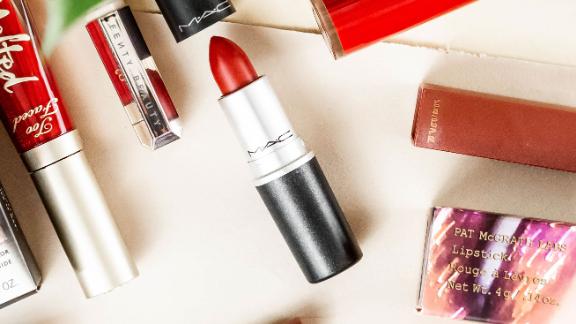 MAC Cosmetics Matte Lipstick ($19; nordstrom.com and macys.com)
We were fans of MAC Cosmetics Matte Lipstick's unique velvety texture and its gorgeous iconic shades. Thirty-seven shades, to be exact — plus an additional seven in its best-selling Retro Matte Lipstick line (Ruby Woo, ever hear of her?). While it's not quite a stay-all-day lip color, it did stand up fairly well to a coffee and light breakfast before fading midway throughout the day. After a messy meal, though, it came off pretty noticeably. The lipstick is relatively moisturizing and has a nice pigment, but if you're prone to dry lips, this is one product where we might recommend first applying a primer to help avoid flaking.
Pat McGrath Mattetrance Lipstick ($38; sephora.com)
Pat McGrath is an iconic makeup artist (ICYMI, Vogue has called her fashion's most influential makeup artist), and so unsurprisingly, her line of high-end cosmetics comes with accordingly high price tags. We were impressed by the gorgeous pigmentation of the Mattetrance Lipstick, which looks flawless upon application; color payoff is stellar. It also has a light, hydrating, creamy formula that glides right onto your lips (and very pretty packaging to boot). The lipstick lost major points, though, for its lack of staying power; it transferred onto our masks and came off more easily than we would have hoped after a meal, especially considering it was the most expensive product in our testing pool.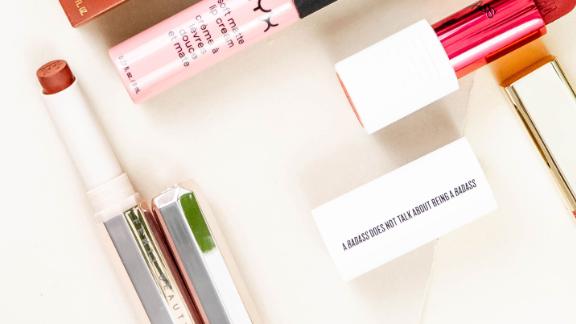 Fenty Beauty Stunna Lip Paint ($25; sephora.com)
There's a reason why "paint" is in the name of this product: Applying this super-pigmented lip color truly does feel like you're taking a paintbrush to your lips, and it's oh-so-satisfying. More square than curved, the applicator has an uncommon shape, which some of us found to be a detriment to nailing precise application. Add a matching lip liner to the mix, though, and the issue will likely be moot.
We appreciated Fenty Stunna Lip Paint's staying power — it basically lasts all day, but it does transfer slightly — and it's so pigmented, in fact, that when we removed it, one of our testers found that it temporarily stained her fingers (which, though slightly annoying, we couldn't help but find impressive). You'll definitely need a cotton ball and some micellar water to remove this product; makeup wipes just won't do. We didn't find it as moisturizing as some of the other lipsticks in our testing pool, and we wished that it came in more than nine shades, but RiRi & Co. largely came through on this product, and if you're looking for a bold, stay-all-day lip color that's both cruelty-free and vegan, this is the one for you.
Revlon Ultra HD Matte Lipcolor (starting at $4; amazon.com or starting at $5.99; walmart.com)
A super-moisturizing formula (which had the bonus of a delightful scent), Revlon Ultra HD Matte Lipcolor lost major points for its lack of staying power: It comes off nearly instantly after eating or drinking, and rubbed off easily on our masks. Akin to more of a gloss than a matte lipstick, this is a good choice if you're looking for subtle color in a nourishing formula for your work-from-home look. The applicator can be a tad gloopy but otherwise glides right on and feels soft and not drying. As it didn't last through a cup of coffee for us, though, if you're looking for a long-wear drugstore lipstick, you'll want to choose another option.
Fenty Beauty Mattemoiselle Plush Lipstick ($12.50, originally $18; sephora.com)
The second product we tested in the Fenty Beauty line, the Mattemoiselle Plush Lipstick wowed us with how smoothly it applies — it's soft and moisturizing, and in a narrow twist-up tube, it's easy to apply to your lips with precision. While this isn't a stay-put lipstick and won't last through a meal, it's a lovely, beautifully pigmented choice if you're fine with reapplying often.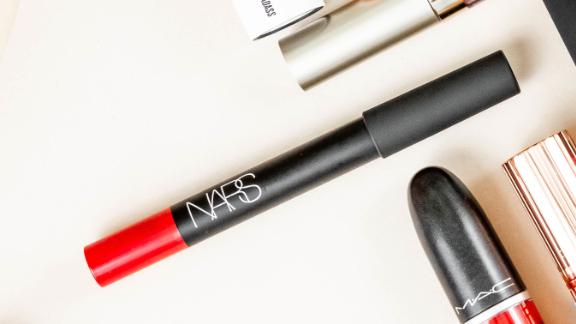 Nars Velvet Matte Lipstick Pencil ($27; sephora.com and macys.com)
We loved that the pencil design of this matte lipstick meant you didn't need a separate lip liner to ensure precise application, but unfortunately that's about all we loved about this product. Its lack of pigmentation meant we needed to apply it several times for more prominent color, and even then it was quite subtle. Plus, its lack of staying power was disappointing (we're typically big fans of Nars cosmetics!), particularly for its high price point; we found it rubbed off with just a swipe of the finger.
Yves Saint Laurent Tatouage Couture Liquid Matte Lip Stain (starting at $37; macys.com and sephora.com)
The YSL Tatouage Couture Liquid Matte Lip Stain comes in stunning packaging that, well, looks like money. Of course it does: It's YSL. While rather moisturizing — the glossy formula is a joy to apply — staying power and pigmentation were not on the list of this product's fortes. More of a sheer stain than a matte lipstick, it isn't long-lasting, but it does look quite lovely while it's there. We also appreciated the unique applicator, which made it easy to apply precisely. It stayed on longer than several stains we've used in the past, but it isn't a lip color we'd consider long wear; you'll have to reapply after a meal. If you've got the money to spare, though, and you're looking for a more subtle, sheer color in high-end packaging, it sure does look pretty.
Charlotte Tilbury Matte Revolution Lipstick ($34; sephora.com)
With glamorous rose-gold packaging and the lingering scent of dessert as it graces your lips, you'll feel fancy just applying Charlotte Tilbury Matte Revolution Lipstick. It's also a formula that will leave your lips feeling hydrated, similar to the consistency of a lip balm. Beyond this, though, the product fell short in most other categories. It took two layers for the color to show up on our lips, which easily transfers and is no match for a small meal and a coffee; it comes off almost instantly. For a product priced this high, we'd expect more staying power or a bolder pigment, though if you're looking for a smoother, softer color and don't care about a long-wear lipstick, we did appreciate how moisturizing it was.