(CNN) —
The Echo has gone spherical. Round. Orblike. Globular. Whatever you want to deem it, the fourth-generation Echo is packed with new features, and for the same $99.99 price tag.
Amazon really wants the Echo to be an all-in-one smart home speaker. And, from our experience with the speaker, Amazon has succeeded. A dependable set of speakers inside powers a rich and vibrant audio experience. Alexa is on board with all her smarts, alongside a custom Amazon-made chipset internally. And taking from the Echo Plus (which this Echo is replacing), there's a Zigbee smart hub inside that allows the Echo to be a true smart home hub.
So, at just shy of $100, does the orb design and upgraded internal hardware make the Echo shine?
It's a whole new look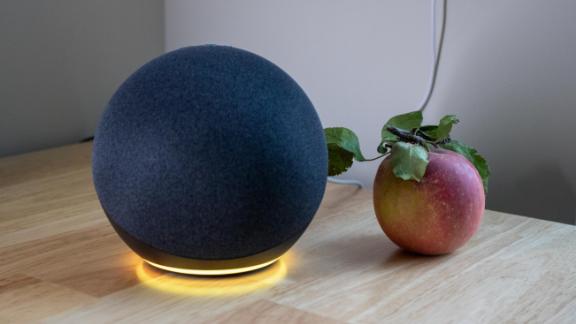 Admittedly, we were a little skeptical of the new spherical design — when it was announced, it was unlike any other smart speaker we'd seen.
But the Echo isn't a giant orb that feels out of place. Over the past few days, we've used it plopped on our nightstand, desk and even kitchen counter. Like previous Echo speakers, it has a cozy design with a fabric outer shell. It's available in Twilight Blue, Glacier White and Charcoal. No matter where we placed it, the Echo blended seamlessly. It's close to a grapefruit size-wise; it's wider over previous Echos and shorter, so it will take up a bit of space.
The top features physical buttons, which rest above the fabric shell, that work to engage Alexa, mute the microphones and set volume levels. Over on the backside is the proprietary power port and a 3.5-millimeter audio jack. We'd also be remiss if we didn't mention that the rear side is plastic, so the fabric shell is only partial.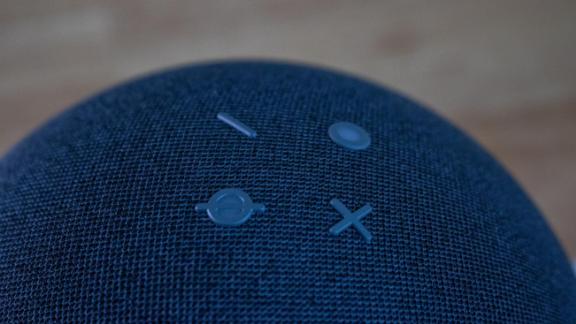 The underside of the fourth-generation Echo contains a mounting port and a rubberized grip for proper positioning. There's even a small rectangular button for resetting the device if need be. Amazon includes a 30-watt wall plug with the cord attached in the box. Regardless of the color you pick, the power plug will be off-white.
Amazon didn't remove the circular ring of LEDs but moved its location. On all previous Echos, it sat at the top; now it's on the bottom. For starters, it's still easy to see when Alexa is listening as it glows blue, or if you have a notification as it glows yellow. When the microphone is mute, it will glow red. But it doesn't just shine in the ring — it actually shines on the surface the Echo is sitting on.
The fabric outer shell is made from 100% postconsumer recycled fabric, the aluminum used is 100% recycled die-cast and the plastic is 50% postconsumer. So it's pretty sustainable all around. The Echo also features a low-power mode. If it doesn't sense sound, it will conserve energy. You'll be able to monitor how much energy your Echo uses in the companion Amazon Alexa app for Android and iOS as well.
It can pump out tunes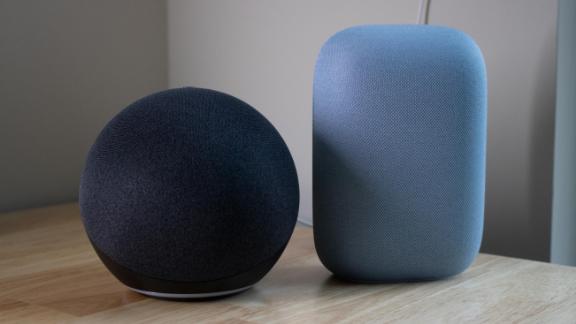 Last year, we called out the improved sound quality of the third-generation Echo, thanks to a 0.8-inch tweeter and a 3-inch woofer inside. With the fourth generation, Amazon packed an extra tweeter (so, count them: two 0.8-inch tweeters alongside a 3-inch woofer).
And the placement inside a spherically shaped speaker is different. Since it's wider. Amazon had the ability to place both tweeters facing forward, with one angled to the left and the other to the right. The woofer is stationed up top and has more space, both height and width, for the bass to settle and be pushed out.
This adds up to a very robust experience, but it's also no longer a 360-degree omnidirectional one. On this Echo, the sound is pushed out the front, so you'll want to consider that when placing it in your space. The old corner trick for amplification that we called out last year is still helpful here, but it doesn't produce the effect as well since sound isn't pushed out the rear side. Essentially, when a 360-degree speaker is placed in a corner of the room, the design of that corner amplifies the sound. It's especially useful for Bluetooth speakers, as it's a no-cost way to boost the volume.
Loudness really shouldn't be an issue, though. The fourth-generation Echo gets considerably loud for a speaker at this price point — it really knocks the Nest Audio to the side in terms of loudness. It doesn't push the overall volume to the maximum of the audio mix; there's a large amount of clarity and balance that comes with this speaker. But that mix can be bass-heavy by default.
The Echo, like the Echo Studio, will also read the room to get a sense of the space. Essentially, it'll listen for how the audio sounds and determine how close it is to something that could impact that sound, like a wall. You can also customize the mix via an equalizer. And since Alexa is here, you can ask her or open the companion app.
As a whole, we're really happy with the audio experience. With volume set to 10 on a song like "Helter Skelter" by The Beatles, the speaker produces lots of power, filling a moderately sized bedroom. The track on its own can be a little muddy, but even with a range of instruments, the Echo handles it pretty well. Similarly, "Born to Run" by Bruce Springsteen comes through with a bit more clarity, and the Echo has enough audio prowess to deliver a large wall-of-sound effect. If anything, you get to hear more details of the track — piano, bass, several guitars and a robust reproduction of the saxophone solo.
With a pop track like "Paper Rings" by Taylor Swift, the bass is powerful with the opening drum beat, and her vocals come through cleanly on the higher range of the audio spectrum. On "Bad Guy" by Billie Eilish, you can clearly hear the broader range of bass and feel the woofer actually shaking the surface the Echo is on.
Overall, Amazon managed to deliver a wide soundstage with the Echo that works for a variety of genres.
Alexa smarts in full force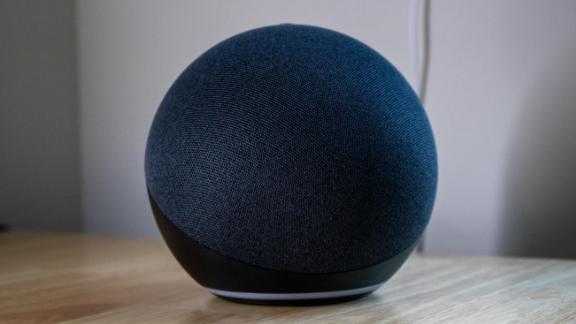 It might be hard to believe, but the Echo first launched in 2014. In the tech space, that means Alexa is getting old. But with age comes wisdom, and Alexa is arguably one of the smarter assistants on the block from our testing. And, on this Echo, you're getting Alexa in full force.
You can get a flash briefing every morning for the latest news (that which matters to you, of course), get the latest weather and, if you're traveling somewhere, even get traffic alerts. If you have other Echo smart speakers, you can use them to announce messages to other speakers in your home. And if a family member or friend has an Echo, you even make a call to them.
All of this is powered by not only Alexa's smarts but six far-field microphones inside and the Amazon-made AZ1 Neural Edge processor. The latter is a first-generation chipset that can speed up voice recognition and deliver Alexa responses in a faster manner. While the chip is inside, we didn't notice any major impact on this yet, as the all-neural speech recognition model (which powers the faster experiences) will launch later this year.
In use, we didn't notice any slowdowns on the fourth-generation Echo. Alexa was quickly able to answer questions and respond to our queries. Our only qualm was that with music at full volume, we did have to raise our voice to get her to hear the work word. Other smart speakers, like the Nest Audio, HomePod and previous Echos, performed better at listening for the command word — loud music and all.
From a smart home perspective, the fourth-generation Echo is loaded with connectivity. Along with Wi-Fi connectivity, you get Zigbee, Bluetooth Low Energy and Amazon Sidewalk. And these are all standards for how smart home devices connect to a broader network. Like how you can ask Alexa to turn a smart plug on and off. Sidewalk is the only standard proprietary to Amazon as well. It's used to get connectivity on Ring Smart Lighting, so with this Echo, you wouldn't need to buy a bridge.
And for a Bluetooth- or Zigbee-powered smart home product, you wouldn't need to buy a separate hub or bridge. It's all right inside this Echo. We, for instance, were able to pair a few Ring bulbs, a Philips Hue Bluetooth bulb and even a door sensor that uses Zigbee. It's also very easy to find devices that work with Alexa, as you can just ask her to search. It even completes the pairing process for you.
Bottom line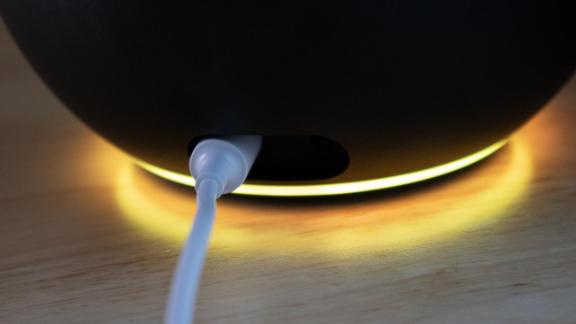 After nearly a week with the fourth-generation Echo, we can safely say that the move to a spherical design was twofold. It's a new design that's more unique and, at the same time, fits better in more spots. But it also allowed the audio team that works on Echo to really improve the sound on this device.
Year over year, it's not only louder but provides a fuller mix with a wider soundstage. Upgrading from a first- or second-generation Echo will deliver an even more impactful sound experience, all while not sacrificing the main part of this product: Alexa.
At $99.99, the Echo brings a tremendous amount of value. In comparison to Nest Audio, this is the clear winner. (We'll be testing the upgraded Echo Dot and Echo Dot with Clock soon.) The fourth-generation Echo gets the job done — and then some — as an all-in-one smart home device. As long as you're cool playing in Amazon's ecosystem.